23 Aug 2023
As one of the country's most sought-out ski resorts, you might assume that a visit to Mammoth Lakes will break the bank. But, even though you may brush shoulders with a few of the Hollywood stars who vacation here (like Joe Jonas, Sophie Turner, Kendal Jenner and more), it is absolutely possible to plan a budget-friendly Mammoth trip. 
Here's how!
Choose the right dates
According to data from the Town of Mammoth Lakes, our area gets an average of 1.5 million summer visitors and 1.3 million winter visitors every year. And the majority of those visits take place during our peak seasons, of June through August and December through February. That means there are two off-seasons that are perfect for a budget-friendly trip.
Not only will you save money on lodging, but you'll also enjoy the less-crowded, more small-town atmosphere that we locals cherish. And don't worry, there's still plenty to do up here during the off-season!
Want to save even more money? If you're only going to be up here for four or five days, consider booking your trip during the week. This will allow you to take advantage of lower mid-week prices and miss the traffic on the 395.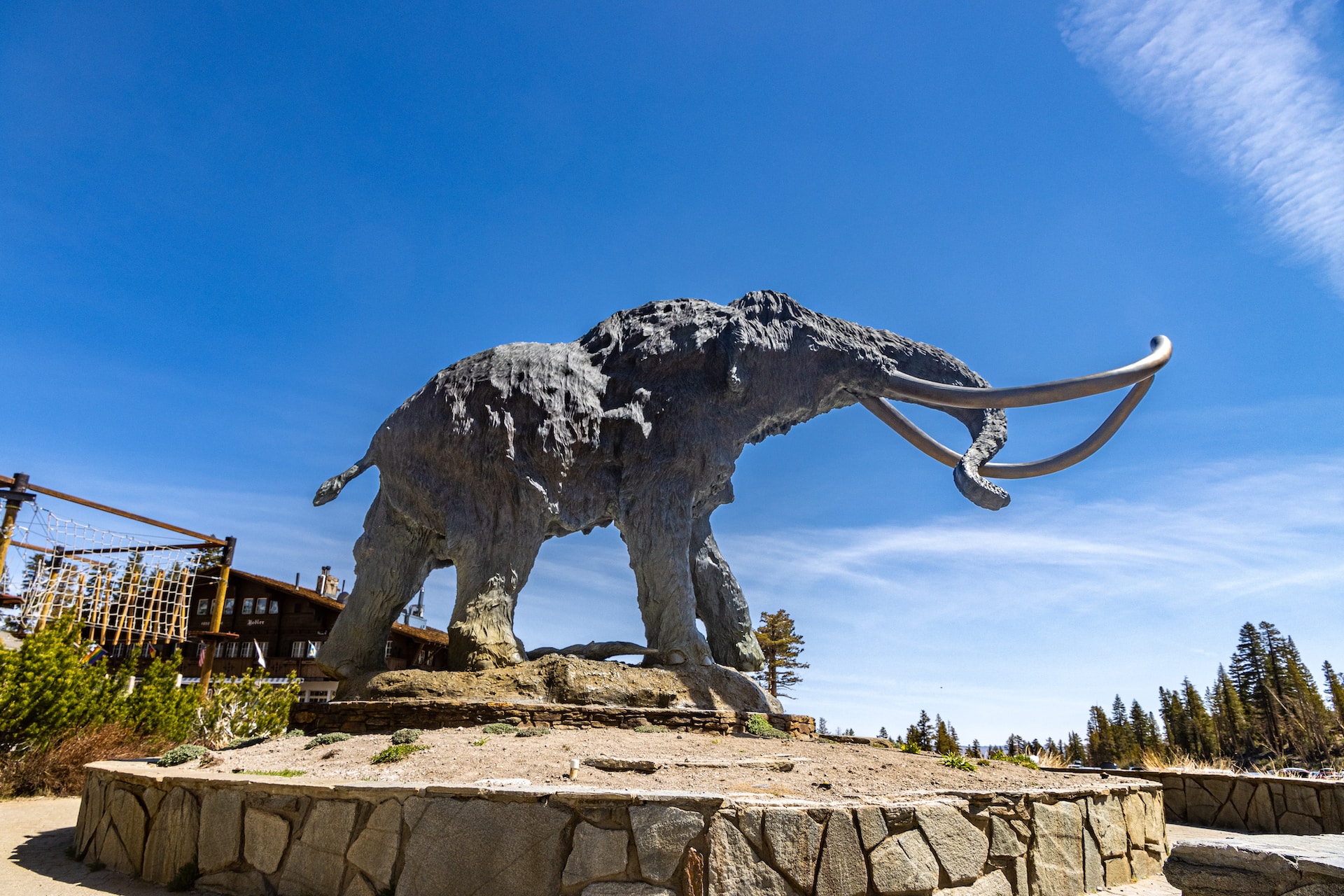 Book a condo as a group
Splitting the cost of gas, lodging, and groceries is a smart way to save money during your vacation. And here at Mammoth Mountain Reservations, the majority of our condos are designed for groups of 4 people or more. So, start planning with your friends or family members who also love the Sierras!
Ask about discounts
Many of the hotels and condo complexes here in Mammoth offer discounts and promos to encourage more tourism during the off-season. We, for example, offer discounts for teachers, military personnel and returning guests. You can also sometimes find deals for multiple-night stays and early booking.
Book directly through a local lodging service
Many of the big travel companies claim to have the lowest prices, but they actually end up charging service fees. When you call our office directly, you'll save money by cutting out the middle man. And, because we're located right here in town, we can provide a more personalized and reliable service.
Look for a condo with a kitchen
Being able to cook your meals at home is a huge way to save money during your Mammoth Lakes vacation. This is one of the advantages of booking a condo over a hotel, as condos typically offer a full-service kitchen.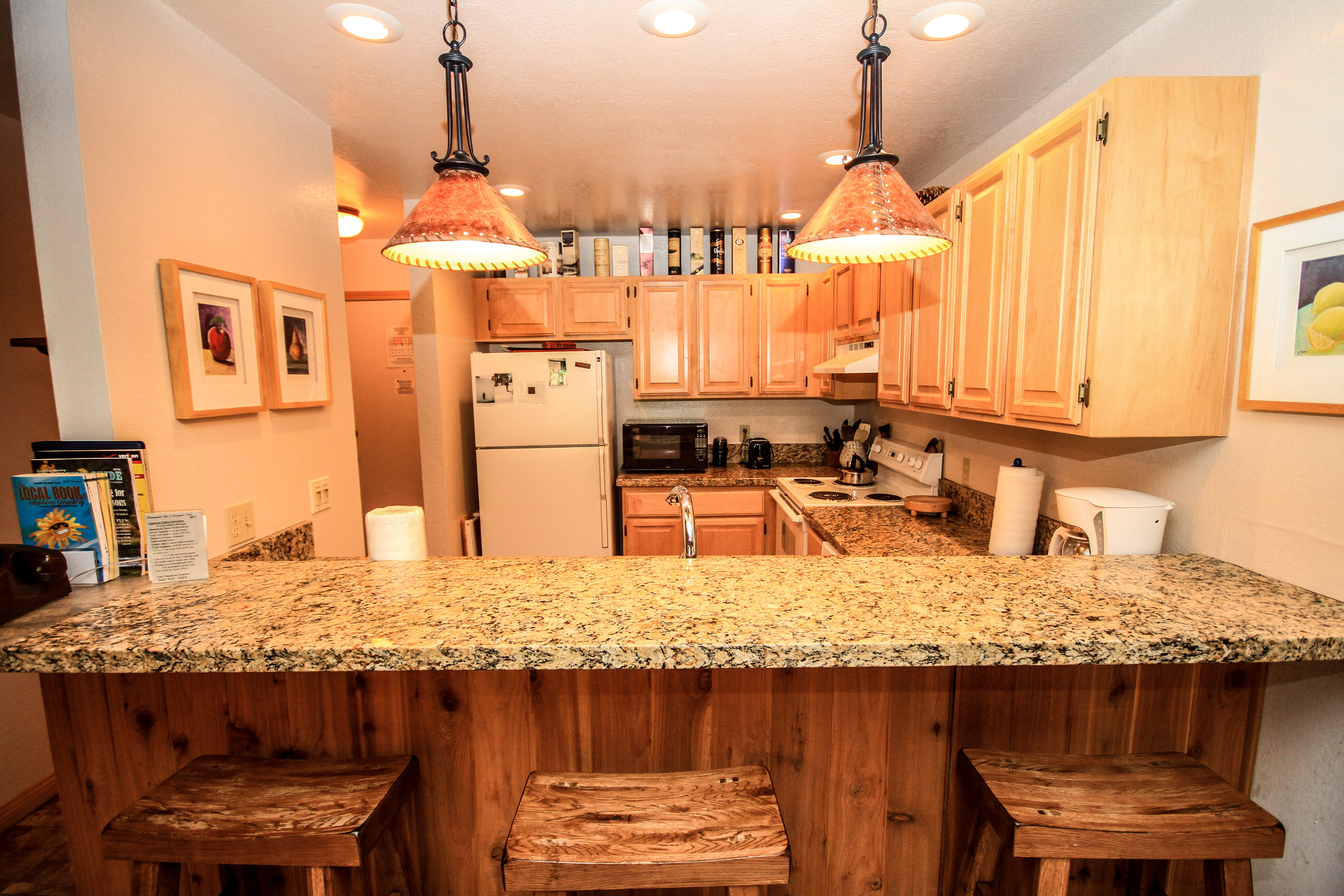 Mammoth Ski & Racquet Club Unit 85
Buy your season passes ahead of time
Mammoth Mountain is a major draw for both our summer and winter guests. In the warmer months, it acts as one of the best mountain bike parks in the West. And in the winter, of course, it offers a range of both groomed trails and back-country skiing and snowboarding.
If you're interested in these downhill activities, this is likely going to be one of your biggest expenses. Save money by taking full advantage of early bird specials, or if you plan on spending a lot of time on the mountain, consider getting an Ikon Pass, which are eligible at a variety of resorts around the country. 
Get creative with your event schedule
While Mammoth Mountain is a major draw to the Eastern Sierra, there are plenty of budget-friendly activities to enjoy off the slopes, as well!
Winter activities
Spring, summer, and fall activities
Year-around activities
Mono Arts Council Events

Mammoth Lakes movie theater

Natural hot springs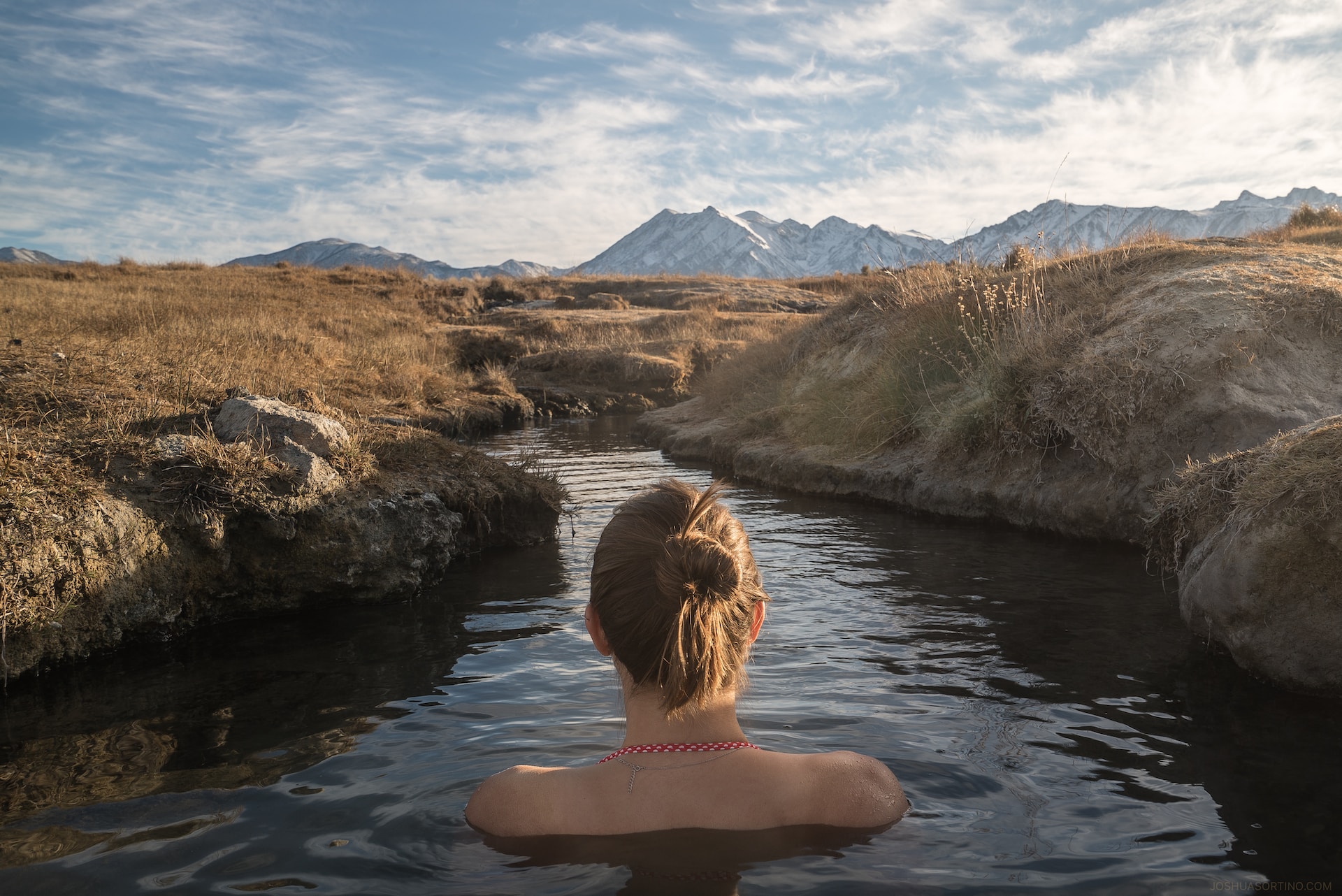 Look at the event calendar for your stay
Throughout the year, you'll find a variety of free and low-cost music festivals and live concerts to enjoy. Whether you like jazz, reggae, country, classic rock, or modern acoustic, chances are, you'll find a free concert up here in the mountains.
Many of these music events take place at the Village at Mammoth, so make sure to take a look at their event calendar for your trip.  
Take advantage of our free public transit
Did you know that Mammoth Lakes has a FREE public transportation system? No matter where you want to go in town, you'll find a bus or trolley to get you there for zero dollars! You can even bring your bike, skis or snowboards with you, too.
Take a look at our blog, How to Get Around Mammoth Lakes Without a Car, for more information.
Find the best happy hour deals
We locals are constantly going back and forth about which restaurant in Mammoth has the best happy hour deals. Most places in town offer a happy hour, and whether they have discounts on drinks, appetizers, pizzas, or meal combos, you'll definitely save money by taking advantage. 
Many restaurants have their happy hour deals on their social media or website, so take a look around and find the one that looks most appetizing to you!
Budget for souvenirs
It's easy to get swept away in finding the perfect souvenirs for friends and family from Mammoth. But this is a quick way to burn through your budget if you're not careful. In order to spend wisely, decide on how much money you want to spend on souvenirs ahead of time.
Then, when you start looking into souvenirs from Mammoth Fun Shop or ATS Another T-Shirt Shop, you'll be in a better position to make sure everyone gets a gift without overdoing it.
You're ready to start planning your budget-friendly vacation to Mammoth Lakes!
With some creativity and planning, you can organize a trip to the mountains that doesn't clear out your bank account. If you have questions about booking a condo or need some help brainstorming your budget-friendly vacation, give our office a call! We're here to help you have an amazing time in Mammoth Lakes!