10 Aug 2023
Looking for a comfortable condo for your small group of friends or family in Mammoth Lakes, California? 
Whether you're planning a family vacation, a trip with your closest friends, or a romantic getaway, Mammoth Mountain Reservations has plenty of options for two to four people! Take a look at these popular cozy condos for small groups.
Chamonix Condominiums
803 Canyon Blvd 
Located within walking distance to the Village, Chamonix is the ideal location for all of your summer and winter activities. Within the condo complex, you can enjoy a summer pool and BBQ, jacuzzi, sauna, coin operated laundry, and a rec room.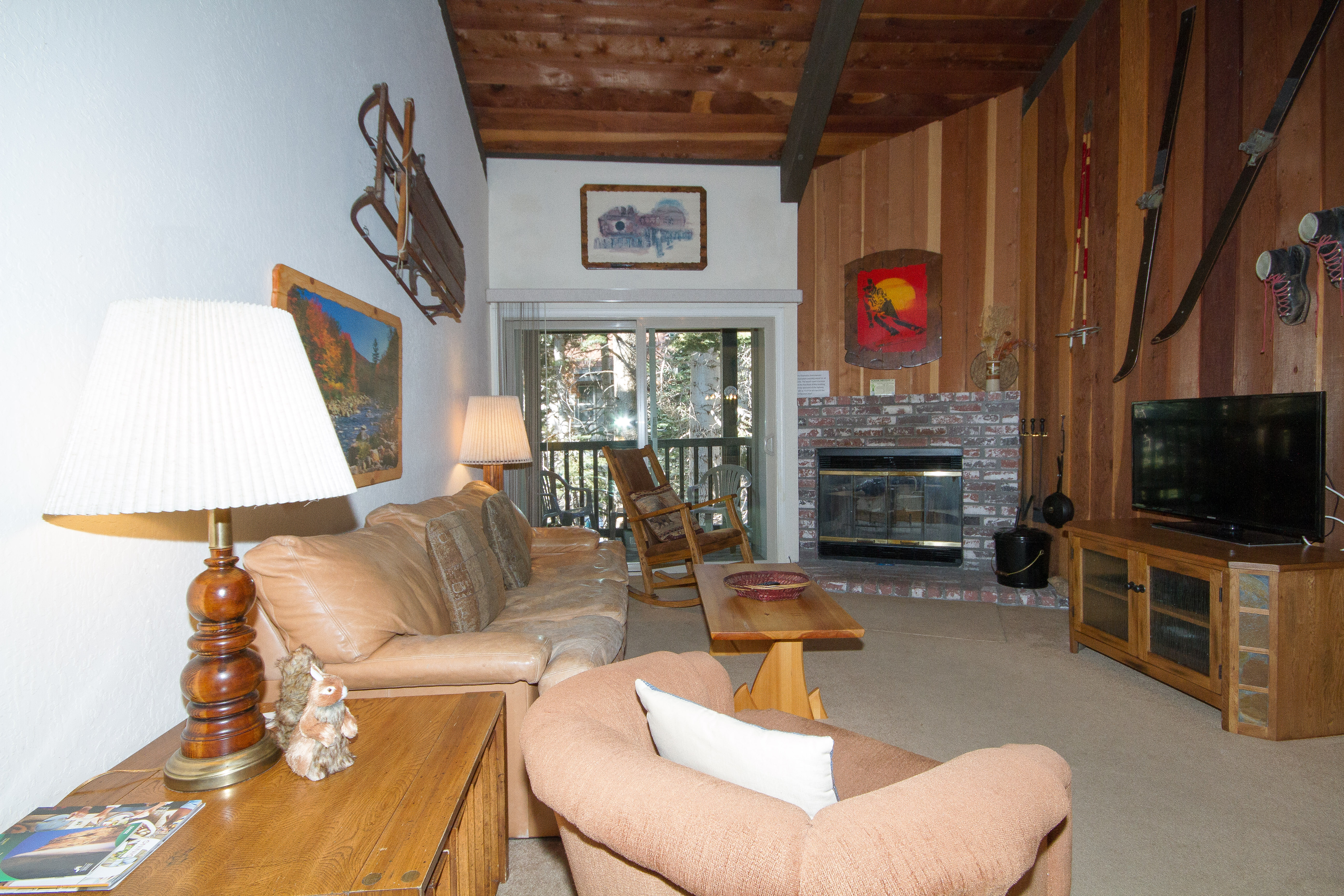 With one bedroom, loft and two bathrooms, Chamonix #36 comfortably sleeps up to 4 people. You'll find a king sized bed in the master and two twin beds in the loft, plus a bathroom upstairs and on the main floor for privacy and convenience. 
A wood burning fireplace and Mammoth-themed decor give this condo a nostalgic ski lodge feel, but with all of the modern amenities you need to feel right at home! 
Sierra Park Villas 
286 Old Mammoth Road
Sierra Park Villas is right in the heart of downtown Mammoth Lakes. It's located directly across the street from the very popular Roberto's Cafe and the Warming Hut Restaurant, and is within walking distance to Vons and the Grocery Outlet. There's also a free trolley stop just outside your door anytime you want to head up to the Village or the Lakes Basin.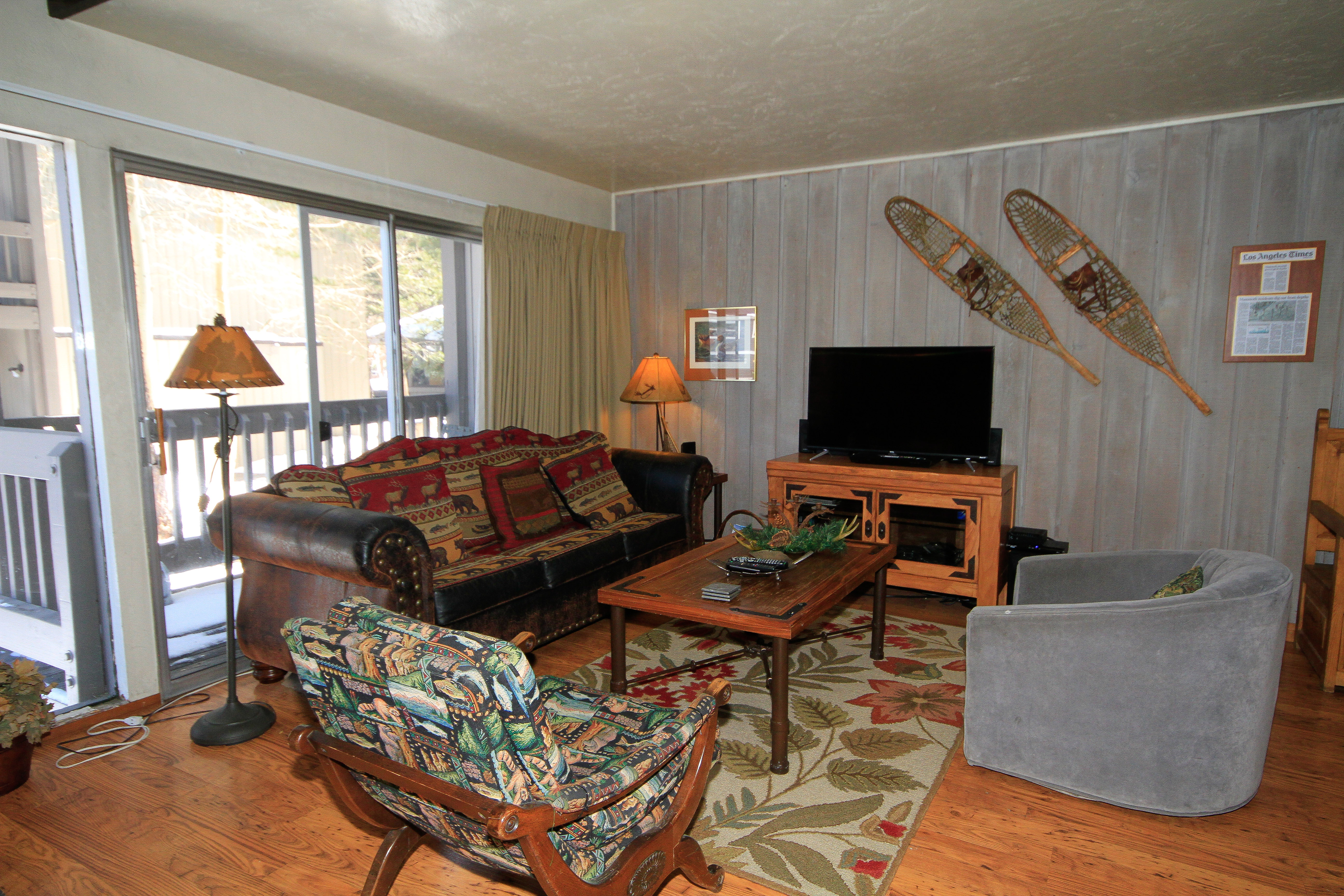 With forest-themed decor and a homey atmosphere, condo #16 at Sierra Park Villas is everything you would want in a woodsy condo in the mountains. 
Upstairs, you'll find a semi-private master bedroom with a queen bed and separate loft area with two twin beds. There is also a half bath on this level, plus a full bathroom on the main floor.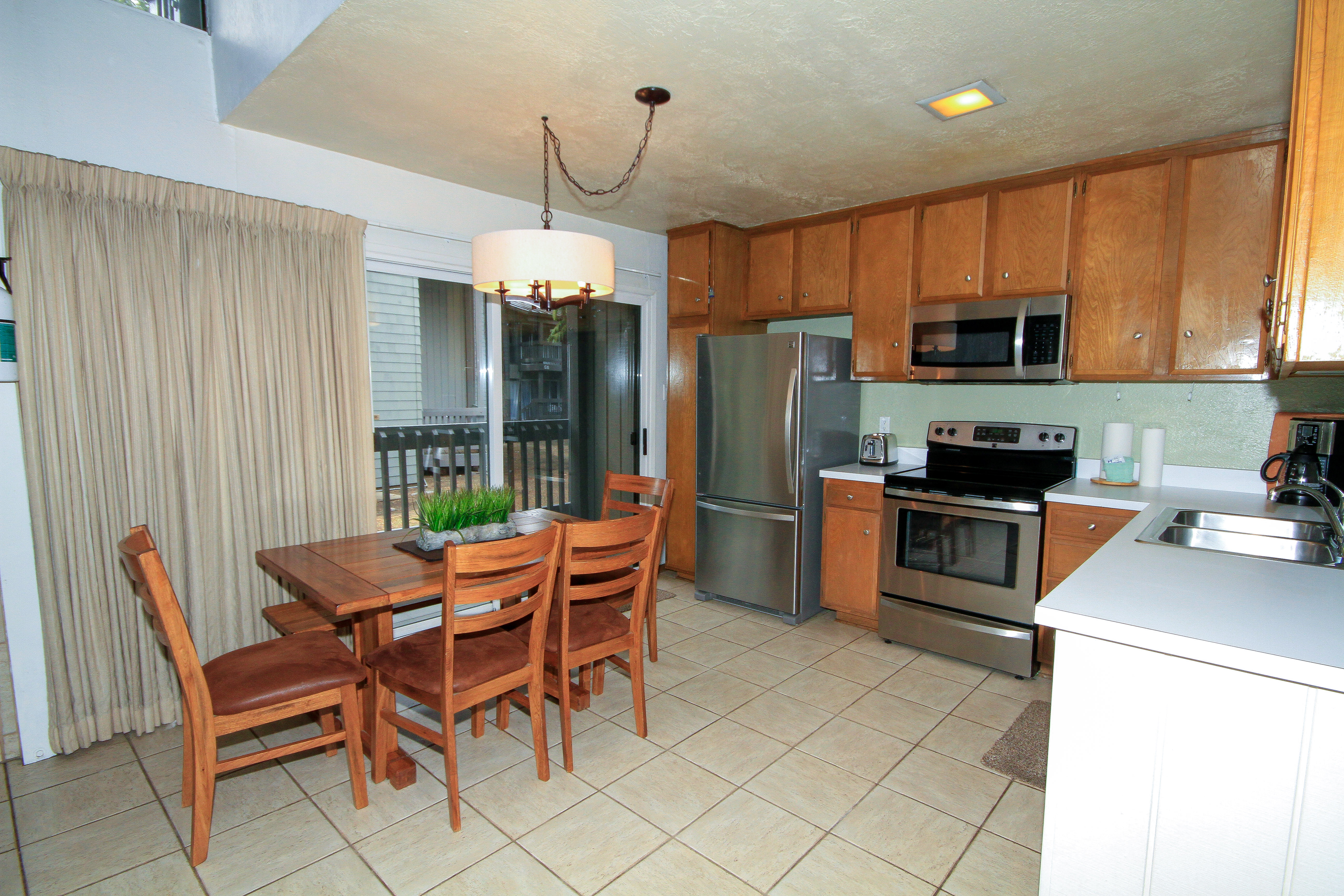 Condo #39 is spacious, bright and airy, with modern appliances and comfortable, upgraded furniture in every room. 
Upstairs, there is a semi-private master bedroom with a king bed, plus two queen beds in the loft sleeping area. This condo features a full bathroom in the upstairs level and a half bath downstairs. 
Mammoth Ski & Racquet Club
248 Mammoth Slopes Dr.
Because it's located so close to Canyon Lodge, Mammoth Ski & Racquet Club is every skier and snowboarder's dream during the winter. In the summer, it's a peaceful retreat nestled in the hillside with close proximity to Mammoth's best outdoor activities. 
On site, you'll find a pool and BBQ area, jacuzzi, recreation room, tennis and volleyball courts. A short walk down the hill is a stop for the free trolley service to take you to the Village or center of town.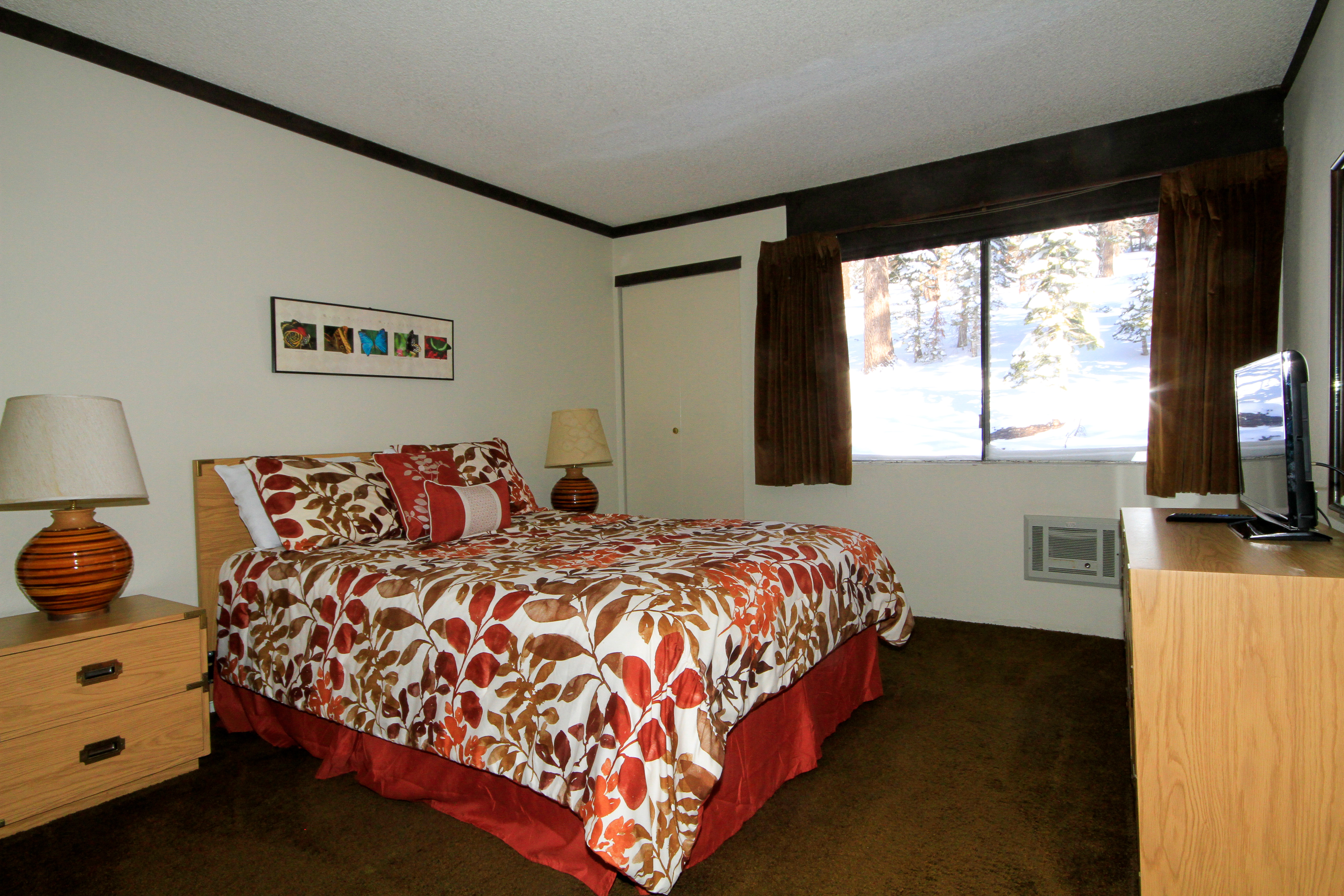 Condo #78 has a cozy-cabin feel that is perfect for couples or groups of 2 to 4 people. It is a one bedroom unit with a queen bed in the master and a comfortable sleeper sofa in the living room. 
This condo has a peaceful view of the wilderness behind Mammoth Ski & Racquet Club, giving you the perfect place to connect with nature and enjoy your privacy.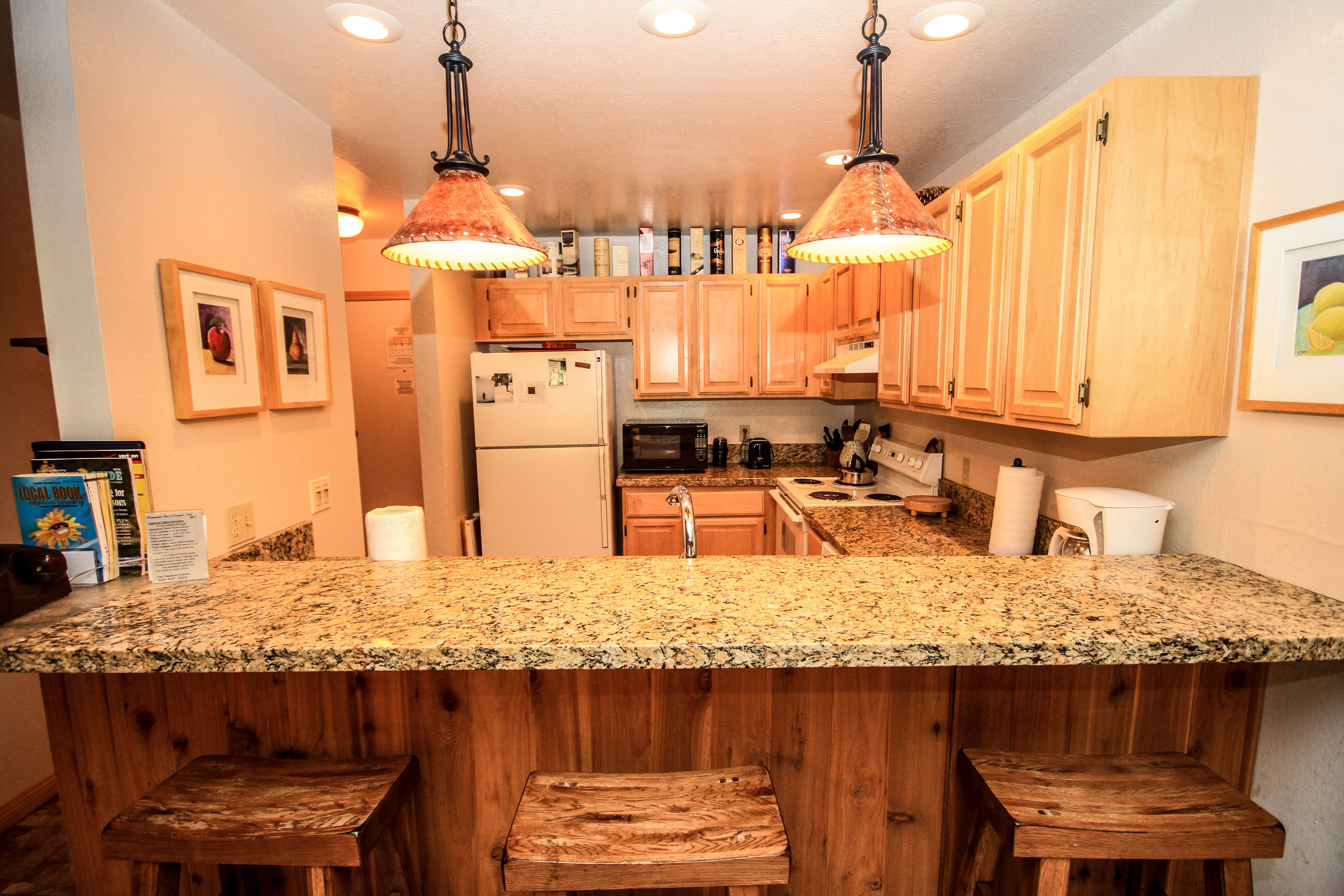 With new flooring, countertops, and cabinets, condo #85 offers a gorgeous balance of modern and classic Mammoth cabin aesthetic. 
There is a queen bed in the master bedroom and a cozy sleeper sofa in the living room, making this another great choice for couples or small groups. And, like the other Mammoth Ski & Racquet Club unit on our list, unit #85 has a tranquil view of the forest behind the condo complex. As you enjoy a coffee on your private balcony, you're bound to see some passing wildlife!
Discover 4
25 Lee Road
Discovery 4 is a peaceful condo complex located just minutes down the road from the Lakes Basin and up the road from the Mammoth Eatery. On site, it has everything you need for a relaxing vacation in the mountains: a summer pool, jacuzzi, sauna, game room, and laundry. This spacious complex is full of green spaces and mature pines so that you can enjoy forest views from every window.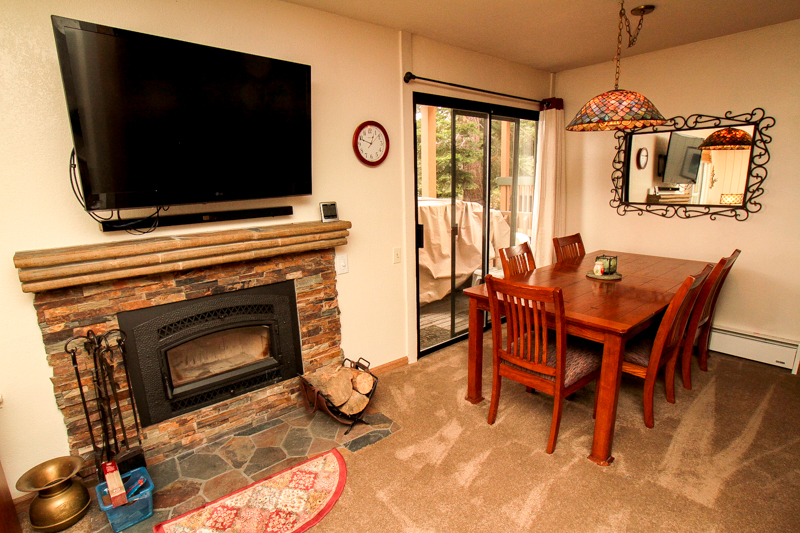 This sweet little one bedroom condo is perfect for a family of four or a couple's retreat. It features a queen bed in the master bedroom and a set of twin bunk beds in a nook off the main living area. There is a full bathroom with separate vanity. And for those who like to cook at home, Unit 115 has a fully-stocked kitchen with all the tools and spices you'll need!
With warm wood furniture, cozy quilts and a wood burning fireplace, it doesn't get much more condo in the woods than #115!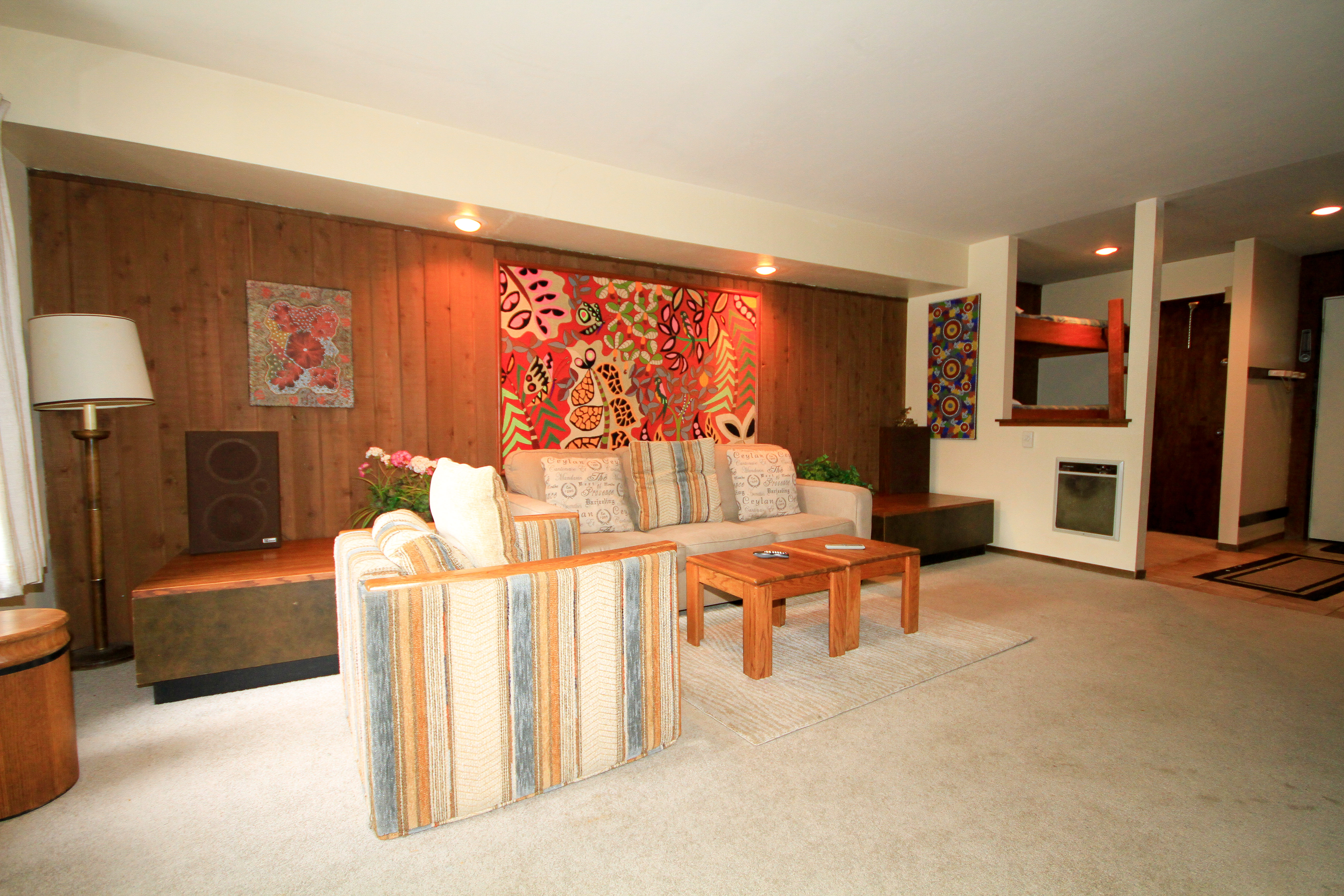 Unit #133 is another one bedroom condo perfectly designed for a small family or couple. Guests can enjoy a queen bed in the master bedroom and a set of three full-sized bunk beds in the alcove. And there's a full bathroom with separate vanity.
This Discovery 4 unit is decorated with a unique artistic style that makes this space vibrant and welcoming. After a full day of exploring or hitting the slopes, you'll be glad to sit back and connect to your streaming services with a SmartTV. 
Time to book your getaway in the mountains!
Whether you're traveling with a handful of close friends, your immediate family, or as a couple, a small condo is a wonderful alternative to a hotel. 
All of the condos we've listed here have fully-equipped kitchens, flexible sleeping arrangements, and all of the amenities you need for your group to feel right at home. Take a look at what we have available or give us a call with any questions you may have about your next trip to Mammoth!