31 Aug 2023
We hate to say it, but summer 2023 is coming to an end. But that doesn't mean the fun is over! There are a few late summer activities that you are going to love!
Take a look for yourself and then get your crew together for an upcoming trip to Mammoth Lakes.
Horseback riding
You can enjoy horseback riding all summer, but there's something special about heading out on a ride during the last days of summer. There will be fewer people on the trails and the weather will be ideal! 
Take a look at our guide to horseback riding in Mammoth Lakes and the surrounding areas.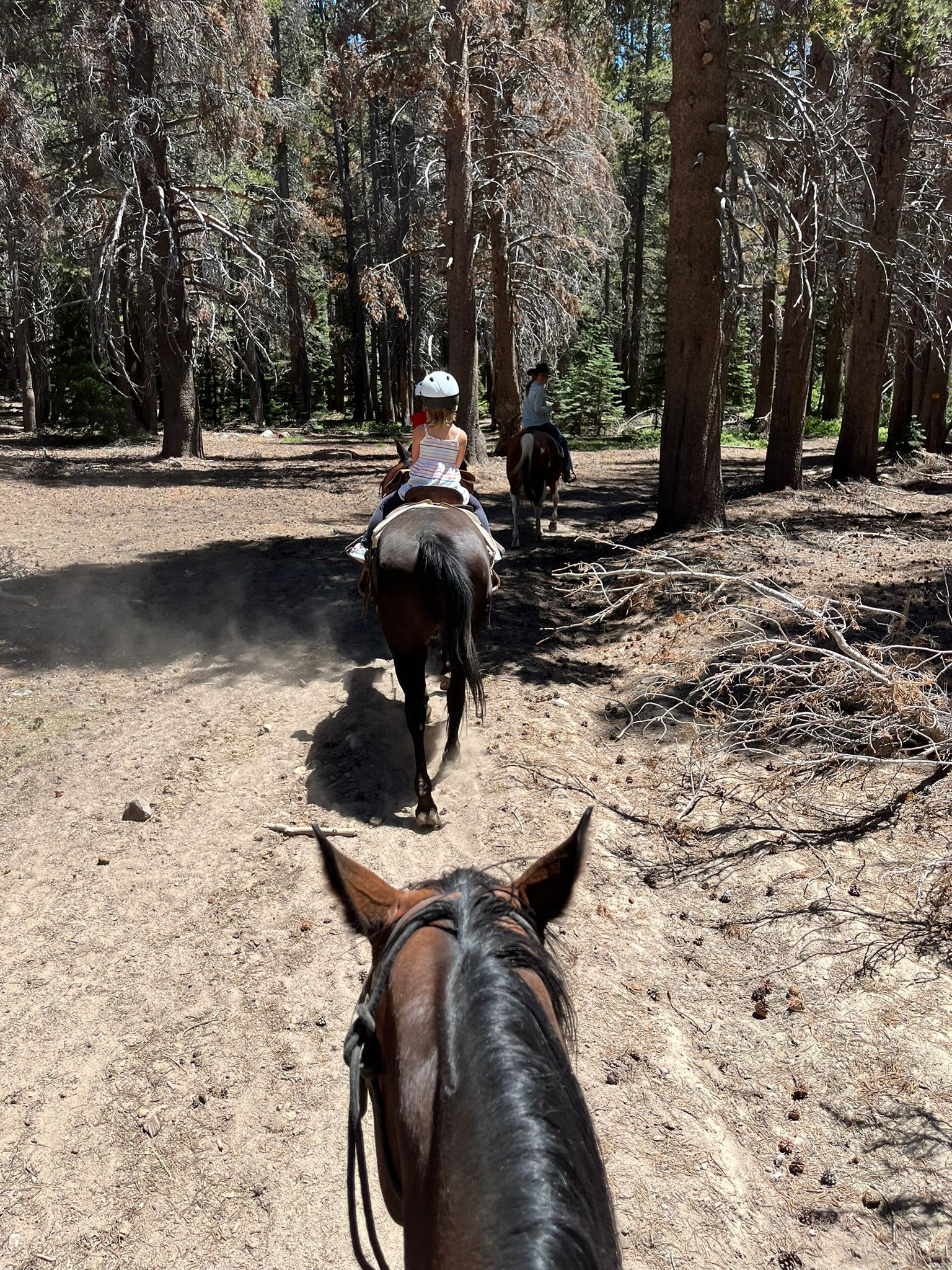 Fishing
Many of our fish species, such as brown, brook, and rainbow trout will spawn at the beginning of fall. And that means that they become more active and feisty as they fight their way upstream. As you can probably guess, those are pretty great conditions for anglers!
Not sure where to cast your line? A great place to start is the Owens River north of Crowley Lake. There, you're likely to catch a Crowley Steelhead—that's the name we give to the monster rainbow trout who migrate into the Owens River every September and October! 
Leaf peeping
If you caught our latest blog, you'll know that the Eastern Sierra is a prime location to enjoy the spectacular autumn color change. And late summer/early fall is the perfect time to try out your photography skills, identify different tree and shrub species, or simply bask in the warm tones of fall leaves. Having a pumpkin spice latte in hand is encouraged!
Peak bagging
Peak bagging is the practice of reaching the highest number of mountain peaks that you can in a certain region. And Mammoth Lakes is an excellent home base for this activity! From Red Slate Mountain to Mount Stanford and more, this leg of the Sierra Nevada is home to some of the most challenging and enjoyable summit hikes in California. And in late summer, you'll have the best chance to hike without too much snow getting in your way. 
To be sure, peak bagging is something of an extreme sport. If you're looking for a more relaxed hiking experience, take a look at our list of the best hikes in Mammoth Lakes.
Biking (both mountain and road!)
Whether you're a road biker or a downhill mountain biker, you're going to want to head up to Mammoth for some late summer cycling. 
After the long winter we had, the current conditions are finally right for some epic mountain biking on Mammoth Mountain.
And, if road biking is more your speed, the 2023 Mammoth Gran Fondo is coming up Saturday, September 9th. This 42mi, 70mi, or 102mi road race is known for its wonderful weather, stunning views, and friendly atmosphere. It's one of our favorite late summer events!
Birding
You may think that the birds will start to disappear as the temperatures drop, but the truth is, you will not want to miss late summer birding here in Mammoth Lakes! Our unique lake systems serve as an annual stopping place for migrating birds coming from even farther north. So, right now is the best time to see shorebirds, ducks, grebes, and geese at Mono Lake, Convict Lake, and Crowley Lake. You may also see a few Bald Eagles who make this region their winter home.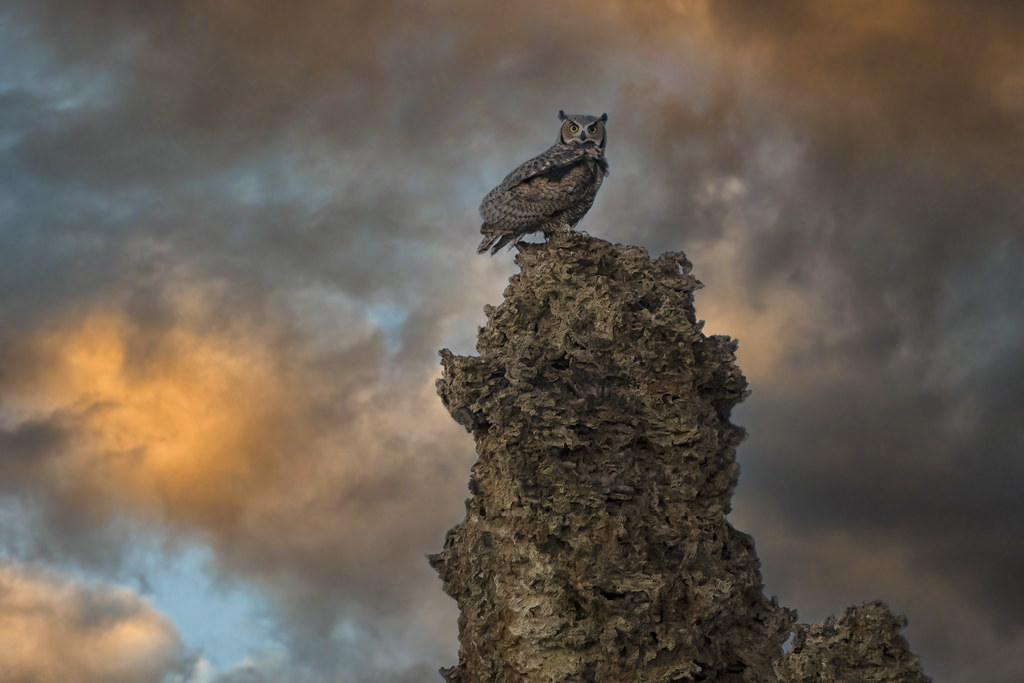 Owl on the tufas at Mono Lake
Tips for making the most of late summer activities
If you're going to visit Mammoth during the late summer, there are a few things you should know! Here are our tips for making the most of this special time of year:
Bring layers. Nights will start to get quite chilly the closer we get to autumn! So, make sure to have a few warm layers, and maybe even an extra pair of socks and gloves in your backpack. 

Practice fire safety. Summers here are typically dry, which puts us at a high risk for wildfires in the fall. One single spark could put our community and wilderness at risk, so please, please practice fire safety.

Don't skip the sunscreen. Sunscreen is a must-have in Mammoth, regardless of whether you're visiting us in the middle of summer or the dead of winter. 

Remember that the days are getting shorter. When planning out your daily activities, always keep an eye on when the sun will set. It can be dangerous to be stuck on a trail when the sun goes down, not only because temperatures will drop quickly, but because you don't want to lose your visibility. 

Be bear (and puma and coyote!) aware. Late summer and early fall is when our wildlife is in overdrive getting ready for the coming winter. That means that bears are more active and potentially irritable than normal as they look for food. Pumas and coyotes are also tracking migrating deer herds and any other prey they can find before it's gone. So, keep your eyes open, keep your pets on leash, and always properly store your food! 

Book your late summer vacation to Mammoth Lakes!
Clearly, there's still lots of fun to be had when visiting Mammoth during the late summer and early autumn. In fact, we locals absolutely adore this time of year. We get to continue to enjoy warm, sunny days while breaking out our cozy sweaters at night. And we appreciate the less crowded trails and lakes now that the high season is winding down.
If you want to experience a new side of the Eastern Sierra, start planning your trip to come visit us now through October! We've still got some condos available for the perfect late summer vacation to Mammoth Lakes.