16 Nov 2022
Mammoth Lakes Ca is known for its incredible skiing and snowboarding. In fact, an estimated 1.3 million people come here every winter to enjoy our cold weather sports! 
But if you've never hit the slopes before, you might feel a bit intimidated. What kind of gear do you need? How can you deal with high elevation? And is there anyway to avoid looking like a complete newbie while you're getting the hang of things?
In this article, we're going to share 11 things you should know before you go skiing or snowboarding
#1: Rent your gear early
As a beginner skier or snowboarder, chances are, you don't have your own gear. Luckily, there are many options for rentals both in town and at the mountain.
If you have a car and can pick up your gear the evening before your first day, there are a few benefits. For one thing, rental packages at places like Footloose and Kittredge are slightly cheaper than at the lodge. 
You're also likely to get a more personalized rental for your skill level than you might at the busier rental places at the mountain. Finally, by picking up your gear the night before, you can wake up bright and early to make the most of your day!
#2: Wear a helmet
Your rental package may not include a helmet, but we would strongly encourage you to rent one anyway. Don't worry, you can always pop it off for selfies with Woolly. But having a helmet while riding is extremely important for skiers and snowboarders of all skill levels.
#3: Watch the weather
Unfortunately, bad weather can sometimes show up to ruin a good ski trip. But as the more experienced Mammoth-goers will tell you, it's not worth venturing out in bad weather just to make the most of your ski pass. True, when conditions are really dangerous, the mountain will close out of caution. But, for a beginner, even light snow storms and wind can make for quite the miserable first time. If you do decide to brave the elements, make sure to be extra careful.
#4: Take a lesson
Most people who are adventurous enough to try skiing and snowboarding are self-sufficient and brave. But, that doesn't mean that you should jump into a new sport without a lesson or two. Learning from a pro will help you make the most of your time at Mammoth Mountain by speeding up the learning curve. With the fundamentals under your belt, you'll feel much more comfortable on your skis or board. 
#5: Keep an eye on your surroundings
To be sure, Mammoth Mountain is a bustling, exhilarating place to be! And, that can mean that it can be a bit overwhelming as well. If you're not careful about keeping an eye on your surroundings, you might find yourself tangled up with another skier or stuck in a tree well. Keep yourself and others around you safe by scanning your surroundings as you go.
#6: Learn at your own pace
As a beginner, you might be tempted to start tackling harder slopes before you feel totally comfortable on the beginner runs. Maybe you're part of a group who's ready to move on, or perhaps you have a bit of an impatient streak. Trust us, we've all been there!
The trick is to strike the right balance between pushing the limits of your skills and maintaining your own safety. After all, you won't get better by staying in your comfort zone. But you don't want to be that beginner flying wildly down the mountain either. So take it slow and go at your own pace. 
#7: Take breaks
A lot of people are surprised at just how physically strenuous skiing and snowboarding is. How can it be so grueling to let gravity drag you down a mountain? But, the truth is, you're about to put your body through the ringer. Not only will you work new muscles and ask your bones and joints to absorb the impact of your falls, but you'll also be exercising at high altitude. 
So, if you're tired, take a break! It will lower your risk of making a mistake from exhaustion, and keep you from burning out before the day is done.
#8: Stay hydrated
In addition to taking breaks, you'll want to make sure you're drinking water. Mammoth Lakes ca has a very dry climate as it is. Add in a day of snowboarding in the sunshine, and you can become dehydrated quickly. So, take sips of water whenever you can get them, and consider taking it easy on the alcohol. You'll feel more refreshed and ready for another day on the slopes if you can keep yourself hydrated.
#9: Have a plan for if you get separated from your group
With so many people enjoying the slopes, and all dressed in very similar gear, it's easy to get separated from your group. It can be helpful to talk ahead of time about what to do in this situation since you might not be paying close attention to your cell phone. Perhaps you can make a plan to meet in the lodge at a certain time. Or, if you want the group to stick together, you might wait for everyone to get to the bottom of a run before hopping back on the lift.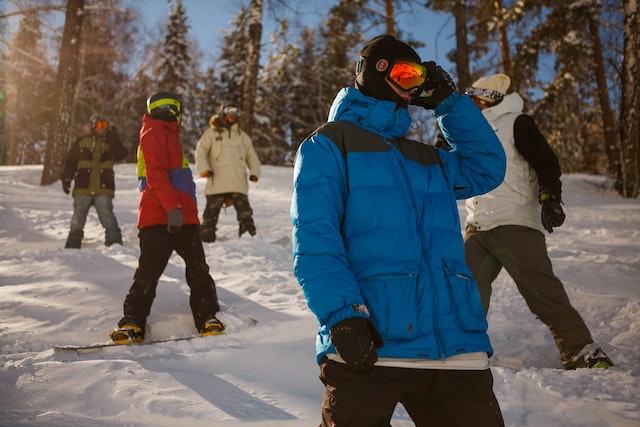 #10: Be patient with yourself
Like learning any new, challenging hobby, skiing and snowboarding is hard! You're going to fall (a lot), feel awkward, and yes, maybe embarrass yourself just a little bit. It's all part of the process, and the more patience you can extend to yourself, the more fun you'll have. So, keep a smile on your face, snap the silly selfies, and stick with it!
#11: At the end of the day, hit the hottub
You did it! You got through your very first day of skiing or snowboarding! Now it's time to celebrate. 
Many of the Mammoth Mountain Reservation properties have jacuzzis, and we would absolutely recommend taking full advantage. A relaxing soak is just what your tired muscles need to rest up for another fun day on the slopes. And, according to a recent study published in the Journal of Exercise Science and Fitness, a hot water bath may actually have positive effects on your performance. Just remember to keep sipping water to counter any potential dehydrating effect.
Are you ready to start skiing or snowboarding?
We hope that these tips have helped you feel more prepared for your first day on the mountain. But no matter how much you read about skiing and snowboarding, eventually you've just got to go for it! Good luck and don't forget to have fun. You're in for an experience that makes people come back to Mammoth Lakes Ca year after year.
Planning a winter vacation? Check out our Mammoth Resorts to find the perfect stay. If you need any assistance booking a Mammoth ski in ski out rental, contact us and we're happy to help.