20 Sep 2023
A visit to Mammoth Lakes is a chance to reconnect with nature, breathe mountain fresh air, and catch a glimpse of some truly amazing wildlife. So, it makes sense that our guests wonder how they can help to protect this special region of the Sierra Nevada.
In this article, we'll talk about 10 easy ways to make your Eastern Sierra adventures more sustainable to keep this part of California wild for years to come!
Plan a group trip
One great way to reduce your carbon footprint is to combine your trip with friends or family who also love traveling to Mammoth. By carpooling and cooking meals together, you can conserve resources—while also enjoying some quality bonding time!
Here at Mammoth Mountain Reservations, we've got plenty of condos for medium to large groups so that you can start planning your shared vacation.
Mammoth Ski & Racquet Club Unit #9
Enjoy our extensive bike path system
Over the last decade, our town has worked hard to create a convenient, safe, and beautiful bike path system spanning the entire town and Lakes Basin. Cycling is a great way to cut down on driving and also take in the stunning sights around town.
Use Mammoth's free public transportation
If biking isn't your speed, you can still choose an environmentally-friendly way to get around town by hopping on our free public buses and trolleys. Throughout the year, you can catch a free ride to the center of town and Mammoth Mountain, plus additional stops in the Lakes Basin during the summer.
There is also a paid shuttle bus to get to Reds Meadow/Devils Postpile which helps to reduce traffic and damage from car parking in the valley.
Keep wildlife wild
Here in Mammoth, we care deeply about protecting our wild neighbors. And we know the best thing we can do for them is to keep them wild! That means:
Limiting their access to human food. Throughout the year, you'll want to make sure that all food or substances with a scent like chapstick and lotion are kept out of reach of wild animals. Double check that you haven't left these items in your car or on the balcony overnight.

Always closing and latching dumpsters and trash cans. You've probably seen our specially-designed trash containers that bears can't open. If you use one or see one open, please close it!

Maintaining distance. If you see a wild animal in town or on the trails, do not approach. The more positive interactions a wild animal has with humans, the higher the chance that they'll lose their wild instincts and get into trouble.

Keeping pets on leash or by our sides. Always leash up in areas of town that require a leash and make sure that your dog is responsive in off-leash areas. This protects your pup as well as our wildlife.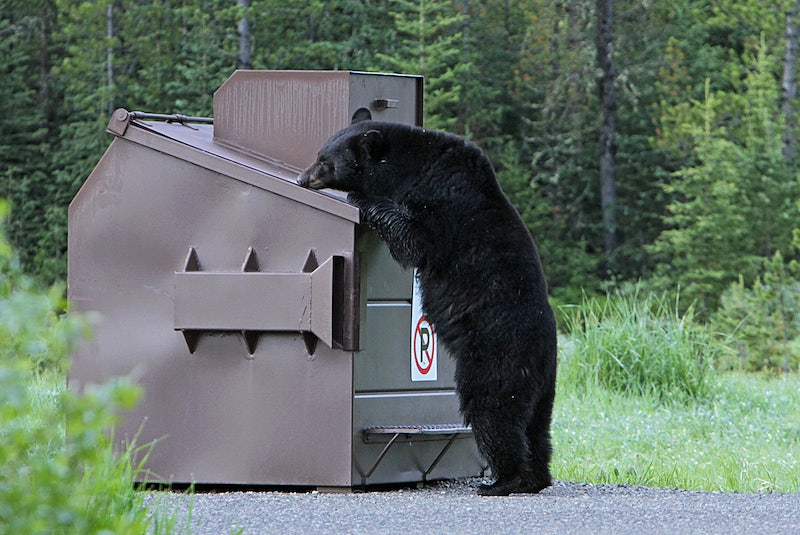 Pack it in, pack it out
It's an old saying, but we always have it in mind! Whatever you bring with you into the forest, make sure that it comes back out with you! This includes wrappers, apple cores, banana peels, toilet paper, and more. 
The fact is, even if something is organic or biodegradable, if it's not part of our region's natural ecosystem, it could have a negative impact.
Support our sustainable restaurants
There are a few excellent dining options in Mammoth for anyone looking to eat sustainably! Take a look at :
Lakefront Restaurant at Tamarack Lodge. This gorgeous, fine dining restaurant at Twin Lakes features a seasonal menu with locally-grown ingredients.

Stellar Brew & Natural Cafe. Stellar Brew is a great option for environmentally-conscious folks. They offer fair trade organic coffee, organic wraps, sandwiches and salads, and plenty of vegan options.

Elixir Superfood & Juice. Another great health food option is Elixir, which features vegetarian and vegan meals and juices with all local and organic ingredients.
Opt for eco-friendly sunscreen
A trip up to the mountains will always require some form of sun protection. But, just as there's been concern over the impact of sunscreen on marine coral reefs, there's evidence that UV-filters, both carbon-based and zinc and titanium, can also negatively affect freshwater lake algae and fish. Now, this shouldn't be too much of an issue if you don't get in the water. But, if you plan on jumping into one of our gorgeous alpine lakes, please consider opting for a reef-friendly sunscreen.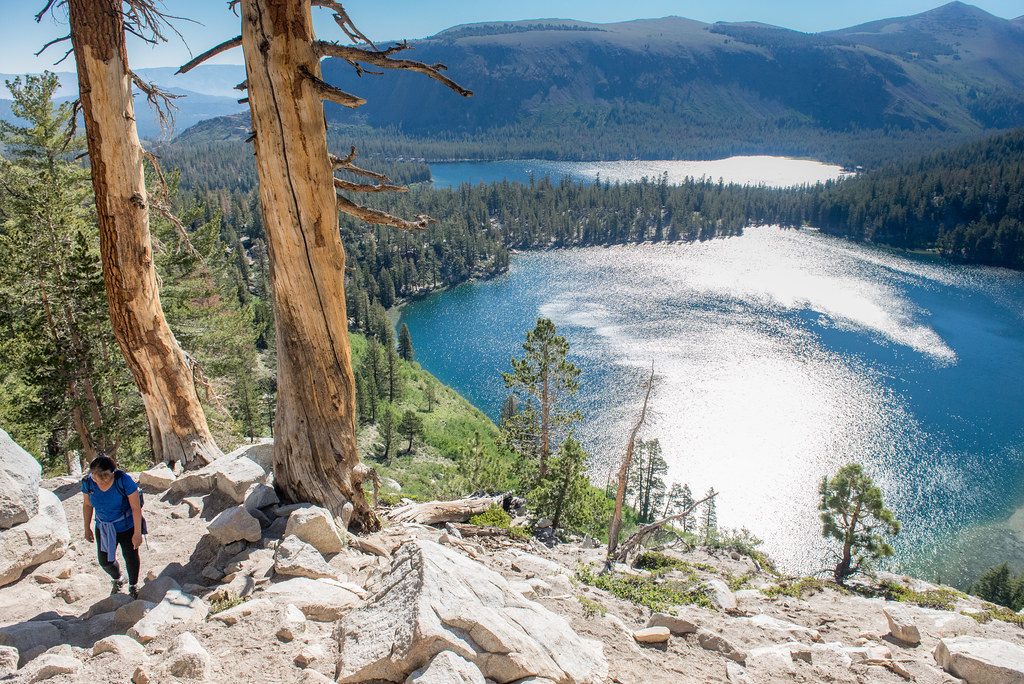 Want to go the extra mile? You might want to switch to a more eco-friendly bug spray, too! While deet-based insect repellents are technically considered safe for the environment in small doses, there are a few other options that are all-natural and come in a 100% recyclable bottle.
Sustainable fishing gear
We love fishing season here in the Eastern Sierra! And we're lucky that there are now so many eco-friendly fishing supplies on the market. Everything from biodegradable fishing lines and lures to lead-free sinkers can help protect our region's waterways without sacrificing your fishing experience. 
If you are still using traditional fishing line, make sure that you dispose of it properly! You can find disposal tubes throughout the Lakes Basin and other popular fishing areas. Take a look at this interactive map by Mammoth Lakes Recreation to find your nearest fishing line disposal station.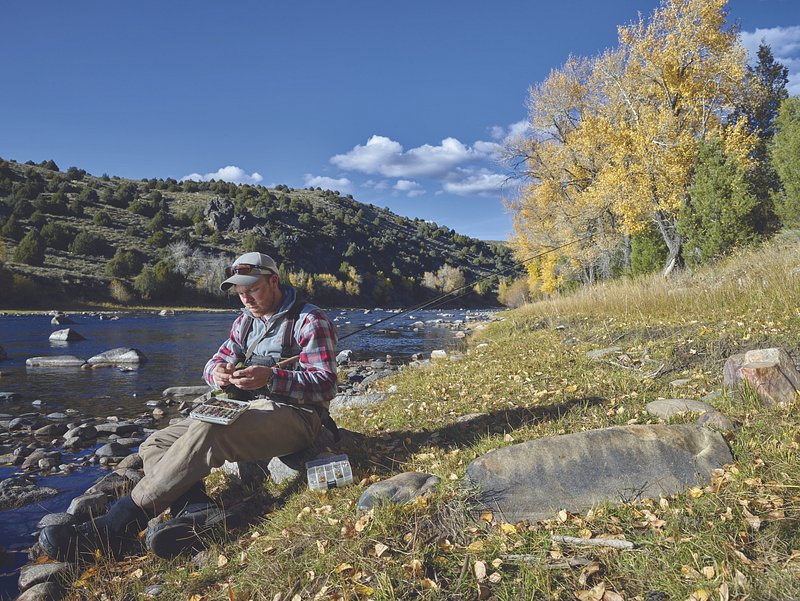 Doggy doo
What to do with your doggy doo is quite a controversial topic up here in Mammoth Lakes. Some dog owners think that the environmentally-friendly option is to leave the poo in the forest instead of bagging it up in a plastic baggy and sending it off to a landfill. But, conservationists point out that the nutrients, pH balance, and bacteria in domestic pet waste is a threat to local ecosystems. So, what can you do to reduce your dog's impact?
We would recommend that you do remove all dog waste but only with zero waste, biodegradable bags. This is preferable to leaving it be or burying it. And please, do not leave baggies by the trail, even if they are biodegradable. Always pack them out and properly dispose of them.
Donate to one of our conservation organizations
There are many people dedicated to preserving the natural beauty of the Eastern Sierra. So, if you're looking to make a donation, consider one of these amazing organizations:
Valentine Eastern Sierra Reserves. This UC Santa Barbara research site serves to promote conservation efforts and collect data about our unique local ecosystem. 

Eastern Sierra Audubon Society. If you're interested in supporting bird and other wildlife populations in the Eastern Sierra, the Audubon Society is a great place to start. They are a non-profit dedicated to protecting our area's biodiversity, and they offer community events such as birding tours, educational programs, and their annual Mono Basin Phalarope Festival.

Eastern Sierra Land Trust. The ESLT is responsible for crucial initiatives such as the 395 wildlife crossing effort, the Great Sierra River Cleanup and more.
We're so happy to see our visitors thinking green!
Here in Mammoth Lakes, we love to share this wonderful wilderness with other nature-lovers. The fact that you are considering making your travels more sustainable gives us hope that we'll continue to be able to enjoy this special part of the world for generations to come!
Ready to book a spectacular trip to the Eastern Sierra? Take a look at the condos we have available at Mammoth Mountain Reservations!