14 Feb 2023
Love it, hate it, or don't think much about it, the reality is Valentine's Day is here! 
And, every year, we like to take the time to profess our love to our very special valentine: this beautiful place that we call home. No matter how you plan on spending this heart-filled holiday, we invite you to join us in sharing our appreciation for our one true love: Mammoth Lakes CA
Here are a few things we adore about life in the Eastern Sierra:
The gift of seasons
Sure, we love the snow. But we also love the purple larkspur that blooms in the spring. We love swimming in alpine lakes that we can only access in the summer. We love the crisp coolness of fall. 
We love that the seasons here are swift and fleeting, which invites us to live in each moment. And when we do get tired of one season—those winter months can drag on, after all—we get through it with anticipation for all the good that's to come.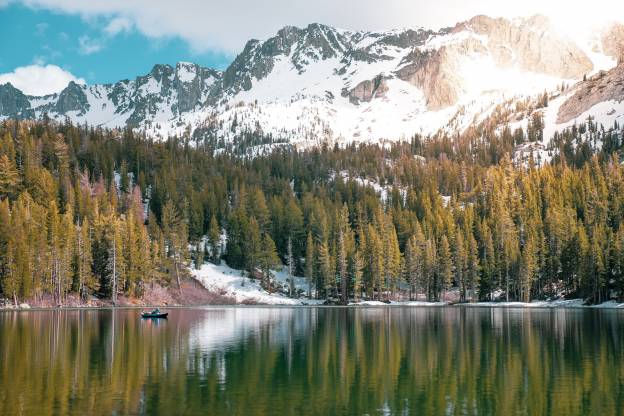 A loving community
Our little town has gone through plenty of challenges over the last few years. Wildfires, extreme snow storms, a global pandemic—it's really run the gamut. But at our core, we're a strong community that takes care of one another, especially in times of hardship.
We have loved to see this in action over the last few months as locals left the safety of their homes to help neighbors dig out their driveways, deliver groceries to snowed-in elderly residents, and walk each other's dogs when everyone has been working long hours.
Everywhere you look around town, from the hospital to the schools to the library to our long-standing restaurants, you can see that this is a tight-knit community, no matter what life throws at us.
All the space our dogs could ask for
Many of us locals are dog owners, and it's easy to see why. Mammoth Lakes is such a fantastic place for a doggo to live. Whether they're accompanying us on a backpacking trip, splashing around at Horseshoe, or snoozing at our feet while we enjoy a beer at Mammoth Brewing Co., we are so happy to have our dogs with us for life in the mountains.
Did you know that we offer dog-friendly condos so that you can also give your pupper the gift of the Great Outdoors?
Views that put everything into perspective
The truth is, no matter how long we've been living here, we truly never get tired of the views. We love waking up early to catch a sunrise lighting up the highest peaks in the distance. We love to catch a bird's eye view of the valley through the trees on our favorite hikes, no matter how many times we've seen it before. We love looking up at night and getting a crystal clear view of the Milky Way.
We're not saying that Mammoth Lakes has the best views in the world. But we're certainly grateful that we get to enjoy them.
Festivals and cultural events
One thing we love most about Mammoth is that there really is something for everyone here. 
If you love craft beer, for example, you've probably heard all about Bluesapalooza, our annual festival of beer and blues music. If you're a fan of hiking and trail running, Mammoth Trail Fest is right up your alley. Elevation Mammoth, an LGTBQ+ ski festival, has been growing in popularity every year for the last 20 years. And the list goes on. Whether you're interested in film, fishing, tequila, motocross, Shakespeare, jazz, or wine, there's a fun-filled festival just for you!
Wildlife (and those who protect it)
We're incredibly lucky to live in the natural habitat of some of California's most amazing wild animals. And we do our very best to keep our native species wild by limiting their access to human food and giving them their space in the backcountry. After all, this is their home, and we owe it to them to protect it. 
Here are some of the very special wild species we love to call neighbors in and around Mammoth Lakes:
Black bears

Coyotes

Red-tailed hawks, Steller's Jay, Ravens, and a long list of other native birds

Chipmunks, Squirrels, Marmots, Pine Martens, and Pika

Mule Deer, Tule Elk, wild horses, and Bighorn Sheep

Mountain Lions and the occasional Bobcat
We wish that we could deliver Valentine's Day cards to all our favorite animal friends. But, we know that all they really want is to be left alone! So, we'll love them from afar!
Tourism
There's no way that we could write a love letter to our little paradise in the mountains without mentioning all of the visitors we get every year. We love sharing this beautiful place with those who appreciate nature like we do. So whether you come up to enjoy Mammoth Mountain, teach your kids how to fish, or take amazing photos of our stunning landscapes, we feel very lucky to be able to be your hosts up here in the Eastern Sierra. 
What do you love about Mammoth Lakes Ca.?